Bliss Construction, LLC has been an active entity in construction and related fields since 1992. The company offers full-scale General Contracting services including Design Build. In addition, Project Management and Owner Representative services are available. If you are considering a new building or renovations to an existing building, Bliss Construction has the unique ability to personalize that project and make the entire experience rewarding from every aspect. With more than 40 years of experience, the level of service offered is unequaled in the construction industry. Their expertise at maintaining a cost effective approach is unique in the construction field. They strive at providing a complete and composite overview of the work prescribed. In addition, they stay "tuned in" throughout the process to assure the Owner that the final product is and has been completed per the specifications and in the most cost-effective manner available. In today's economic climate, their keen knowledge of costs along with their ability to utilize effective cost-control means and methods provides their clients with a level of confidence in the work at hand.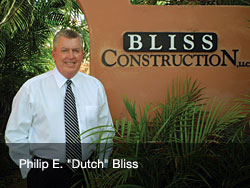 Dutch grew up in Boca Raton, graduated from Boca Raton High School and headed to the University of Florida in Gainesville in 1972. He began his career in the construction industry in 1977 working for Stinson Construction in Deerfield Beach. He remained with that firm, which became Stinson-Head, Inc. in 1982, for the next ten years. Over those years, Dutch was specifically responsible for budgeting, estimating and marketing. During that period of time, he obtained ownership and was a principal with that firm.
As Stinson-Head dissolved in 1992, he formed Bliss Construction, Inc. in Boca Raton. That new firm specialized in upscale commercial projects and maintained annual revenues in the fifteen to twenty million-dollar range. Over the next ten years, the firm specialized in Country Club Clubhouses. During that period, he became well versed at working hand in fist with the various boards and committees charged with the construction and renovations to numerous facilities.
In 2004, Dutch established Bliss Construction, LLC. That firm has continued constructing upscale commercial projects. In addition he is also focusing on single family residential and renovation work along with individual unit condominium renovations. He also maintains roles as construction manager or owners representative on a variety of condominium upgrades and reconstruction projects.
Most importantly, Dutch has maintained strong working relationships with numerous developers and design firms. He has had the pleasure of servicing some of his clients for two and, at times, three generations of individuals. With that, he has established himself as one of the more reputable individuals in the construction and related fields. His professionalism and work ethic are unequaled in South Florida.
He has been married to his wife Diane for 45 years. They reside in Boca Raton and have three grown children and five grandchildren.